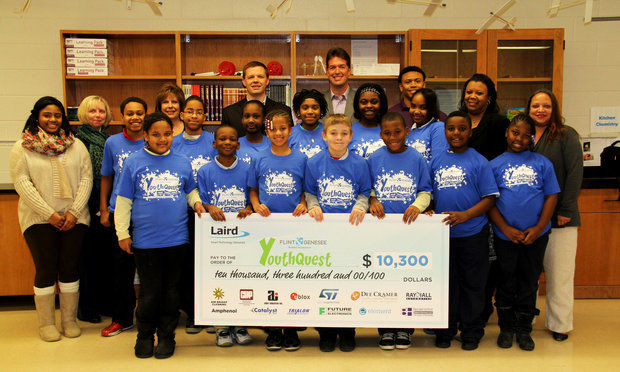 Article written by Dominic Adams at
MLive
FLINT, MI – More than $10,000 in donations from 14 companies will help an after-school program at Flint's Holmes STEM Academy purchase curriculum and go on field trips.
A $10,300 donation from technology company Laird was made on Wednesday, Dec. 10, to YouthQuest, according to a statement.
Laird made a $5,000 donation and then challenged its suppliers to match its donation. Gifts came in from U-Blox, Mid Star Sales, Raydiall, Catalyst Sales, Benskin & Hott, Trialon Corp., Albar Industries Inc., Future Electronics, Element, CHMP Inc., Dee Cramer, Aim Bright Cleaning and Ammphenol, the statement said.
The Flint & Genesee Chamber of Commerce sponsor YouthQuest reinforces learning that takes place during the school day by offering activities and services that encourage the exploration in the areas of STEM and the arts, and promotes academic achievement, physical fitness, youth leadership and volunteerism.
"This money will go toward vital curriculum that helps ensure the YouthQuest students are getting the best STEM instruction possible," Rhetta Hunyady, vice president of Education and Training for the Flint & Genesee Chamber, said in the statement. "We've built a highly effective and relevant program for the youth of Flint & Genesee, and I think this donation helps validate that."
Laird employs about 9,000 people in operations in North America, Europe and across Asia. It has local facilities in Holly and is headquartered in London.
"At Laird, we know that a sound education will help the next generation of engineers develop the skills needed to change the world through innovation," said Steve Brown, Laird Senior Vice President and General Manager. "We are proud to support the STEM curriculum for children and look forward to seeing what these students can dream up for the future."
Dominic Adams is a reporter for The Flint Journal. Contact him at dadams5@mlive.com or 810-241-8803. Follow him on Twitter, Facebook or Google+.